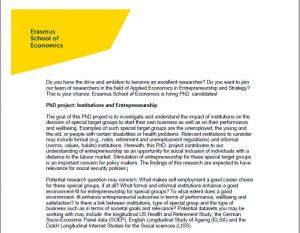 Do you have the drive and ambition to become an excellent researcher? Do you want to join our team of researchers in the field of Applied Economics in Entrepreneurship and Strategy? This is your chance: Erasmus School of Economics is hiring PhD. candidates!
PhD project: Institutions and Entrepreneurship
The goal of this PhD project is to investigate and understand the impact of institutions on the decision of special target groups to start their own business as well as on their performance and wellbeing. Examples of such special target groups are the unemployed, the young and the old, or people with certain disabilities or health problems. Relevant institutions to consider may include formal (e.g., rules, retirement and unemployment regulations) and informal (norms, values, habits) institutions. Herewith, this PhD. project contributes to our understanding of entrepreneurship as an opportunity for social inclusion of individuals with a distance to the labour market. Stimulation of entrepreneurship for these special target groups is an important concern for policy makers. The findings of this research are expected to have relevance for social security policies.
Contact:
Prof. Dr. Roy Thurik, thurik@ese.eur.nl
Dr. Jolanda Hessels, hessels@ese.eur.nl
Dr Brigitte Hoogendoorn, hoogendoorn@ese.eur.nl