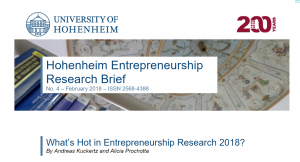 Taking stock of what has been achieved in a particular research field, where a field currently stands, and where it might move to in the near future is an important undertaking. In this research brief, we present the results of a survey of 225 experienced entrepreneurship researchers who shared their insights on
a) what topical areas are currently important in entrepreneurship research and
b) what methods might be especially useful to provide interesting and relevant answers to old and new research questions.
The results suggest no dramatic differences in the relevance of topics compared to our original survey conducted five years ago (Kuckertz 2013), but do indicate that the field is moving forward in terms of methods by embracing the "gold standard" of academic rigor inspired by the natural sciences (e.g., experimental designs) and by considering methods that make it possible to capture the complexity of entrepreneurial phenomena.

Download