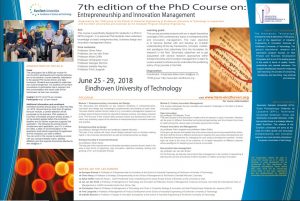 The Technical University of Eindhoven organises a PhD course on entrepreneurship and innovation management in Eindhoven on 25 – 29 June 2018.
This course is specifically designed for students in a PhD or MPhil program. It is assumed that students have extensive knowledge on basic entrepreneurship, business design andinnovation management theory. The course is organised in two modules:
Module 1: Entrepreneurship, Innovation and Design
Module 2: Product Innovation Management
For students of EuroTech Universities no participation fee is required, and their accomodation and travel costs will be reimbursed via their own university.
For more information download the flyer or visit the website.